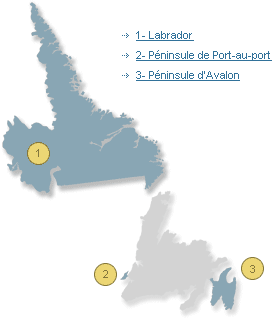 Newfoundland and Labrador is the most easterly province in Canada. Cape Spear, the most easterly point in North America, is located close to the capital city of St. John's. Newfoundland and Labrador was the last province to join the Canadian Confederation in 1949. The province includes the island of Newfoundland and, on the mainland, Labrador, which is bordered by Quebec. Together, they have over 17,000 km of coastline along the Gulf of St. Lawrence and the North Atlantic. For over 500 years, the sea and the fishing industry have profoundly shaped the lives of the province's inhabitants.
The province is 405,220 km2 in area and has a population of 509.250 (2011 census). The Francophone and Acadian population is approximately 3.015 (0.6% of the province's total population). Additionally, there are about 22.000 French speakers who have a first language other than French.
Francophones in Newfoundland and Labrador are primarily concentrated in three regions: (1) Labrador in the north, (2) the Port au Port peninsula in the west, and (3) St. John's and the Avalon Peninsula in the east.
You can also explore our regions by watching the promotional video, Osez Terre-Neuve-et-Labrador !


The provincial government and Community Accounts are working towards a Bilingual Web-Sites to provide an online community reports in French. It includes many statistical information on populations of most municipalities in the province.
Access it by clicking here.