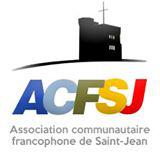 The ACFSJ organizes cultural and recreational activities for Francophones living in the St. John's area.
The ACFSJ is also responsible for managing the community sector of the Centre scolaire et communautaire des Grands-Vents, the hub of French language on the Avalon Peninsula. The Centre is an ideal location for the activities and events of the Association and the école des Grands-Vents and it also houses a francophone library.

Activities
L'ACFSJ offers badminton nights, yoga classes, community BBQs, a Club du samedi for children, musical concerts, cinéma nights and much, much more! Some of our activities may also be of interest to the general public, especially to people interested in learning French. We offer regular French courses and our Festival du vent, which takes place every November, is truly a festival for the entire community.
To learn more about the activities and events of the ACFSJ, please visit the calendar of activities of the Portail or visit the site of the ACFSJ: www.acfsj.ca
The ACFSJ is also on Facebook: https://www.facebook.com/pages/Association-communautaire-francophone-de-Saint-Jean

Rental of spaces
L'ACFSJ has a variety of different spaces that organizations and indivuduals cans rent for activities or events.
- conference rooms  -  theatre  -  cafeteria  -  gymnasium  -  kitchen  -  etc.
For more information on prices and packages available, contact Manon Laverrière at
or call: 757-2816