To accomplish its mission, ARCO is equipped with a full-time staff whose job is related to community, cultural, and economic development. The staff provides administrative support and incidental services that are needed for community development.
GOALS
To plan, develop, and carry out a program that will meet the needs of the three Francophone and Acadian communities on the Port au Port Peninsula;
To foster the development of organizations and working groups that will contribute to the development of the community;
To create an environment that will stimulate the sense of pride in the French language and culture in an effort to curb assimilation;
To educate the Anglophone population about the French fact and encourage them to participate in various events.
To reach its goals, ARCO must:
Hire and manage the staff necessary  to offer services to the Francophone community on the Port au Port Peninsula;
Ensure that the region's three community centers are running smoothly so that they can serve the target clientele with effective management and strong financial control;
Identify the needs of the communities and help them take advantage of programs and services;
Establish and coordinate a development action plan;
Help volunteers get organized in order to offer new services to the community;
Identify and take advantage of creation programs and grants to carry out certain projects;
Encourage participation in French courses;
Promote French culture by all means possible, but more specifically by implementing an electronic communications network such as a community radio or television station;
Ensure a Francophone presence within predominantly Anglophone organizations;
Encourage the population to return to their roots by organizing an archive researching system as well as historical and cultural expositions.
Services
ARCO organizes cultural activities for residents of the Port au Port peninsula. In the fall and winter, several cultural courses are offered in French, including painting, sewing, quilting, guitar, and traditional dance. Literacy and Francization training courses are also offered during the school year.
The Centre scolaire et communautaire Sainte-Anne offers photocopying, faxing, internet, and library services. Organizations and residents of Mainland also have access to the kitchen, cafeteria, studio, gym, and meeting rooms for their activities. The resource center and the pre-school service are managed by the Fédération des parents.
Board of Directors
ARCO is governed by a board of directors made up of members of the three Francophone associations.
Robert Cormier, President
Jenny Fenwick, Vice-President
Melinda Oliver-Morazé, Treasurer
Diana White, Secretary
Judy Woods, Director
Stan Félix, Director
Dwight Cornect, Director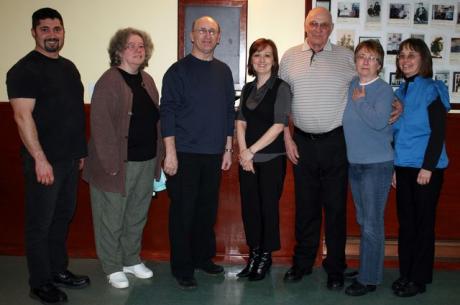 de gauche à droite : Dwight Cornect (directeur), Jenny Fenwick (vice-présidente),
Robert Cormier (président), Melinda Oliver-Morazé (trésorière),
Stan Félix (directeur), Judy Woods (directrice), Diana White (secrétaire)
Crédits photo : ARCO
Team
Catherine Fenwick
Director General
Email:
Telephone: (709) 642-5254, extension 11
Gloria Lecointre
Controller
Email: Telephone: (709) 642-5254, extension 14
Christy Barter
Administrative Assistant
Email:
Telephone: (709) 642-5254, extension 10